Bench Top Hardening Heat Treat Furnaces - Ovens 2250°F Max Temp
The
hardening temperature for many tool steels (examples AISI A2, A6, D2, H13) is between 1500
°
F and 2000
°
F. Our bench top models with a vertical rising door for operator safety are manufactured in the US and can be configured quickly to meet your heat treating process needs. Options include quench tank, inert gas atmosphere to reduce scaling, AMS 2750E instrumention type D or CQI-9 package for NADCAP certification, bench stands and various temperature controllers. Contact our multi-lingual speaking specialists for any questions you might have.
Type / PDF Brochure


Click for Quote
without options)

Base Price *


Hardening Furnace / Oven K-060509-B

K-060509 -B

$1,710

Hardening Furnace / Oven K-080610-B

K-080610 -B

$1,670

Hardening Furnace / Oven K-110813-B

$3,890

Hardening Furnace / Oven K-120813-B

$4,240

Hardening Furnace / Oven K-120820-B

$4,299

Hardening Furnace / Oven K-120832-B

$4,940

Hardening Furnace / Oven K-120840-B

$7,125

Hardening Furnace / Oven K-121220-B

$4,999

Hardening Furnace / Oven K161020-B

$5,925

Hardening Furnace / Oven K161032-B

$8,999

Hardening Furnace / Oven K-161220-B

$6,540

Hardening Furnace / Oven K-161232-B

$9,999

Hardening Furnace / Oven K-181822-B

$9,299

Hardening Furnace / Oven K-181824-B

upon request
* PM6/PM3T included, all other options are separate
Available Options, ask for Quote:
PID temperature controller Watlow PM4E (4 programs, 10 steps, timer)
PID temperature controller Watlow F4 (40 programs, 256 steps, timer)
Other PID controllers upon request (Nanodac, etc)
High limit/over temperature protection (includes controller and thermocouple)
Honeywell eZtrend Recorder for data collection and transfer
Electrical other than standard 240 Volt, single phase, 60 Hz
Steel Bench Top furnace stand
Timer / Audible Alarm
Roll away quench tank
Stainless Steel Exhaust Hood with mounting brackets (only available if Inert Gas Package is ordered)
Automated inert gas package
Ceramic cement embedded element plate assemblies for heating element protection
Spare parts package for installation of new furnaces
AMS 2750E package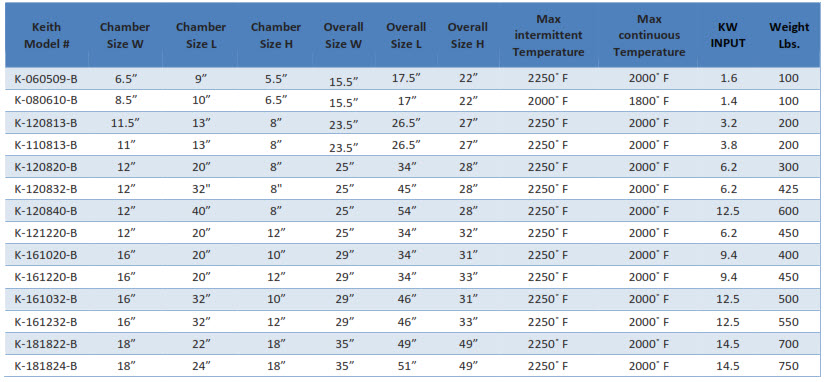 The Keith 2250°F Rated Bench Top Hardening Heat Treat Furnaces have become industry's standard throughout the world for both small scale factory production and laboratory R&D where reliable, accurate temperature control, excellent temperature uniformity, long lasting performance, and safe operations are now a necessity. These Industrial bench top hardening heat treat furnaces have become known variously as table top furnaces, heat treat furnaces, tool room furnaces, laboratory test furnaces, single chamber heat treating furnaces, high temperature box furnaces, heat treatment ovens amongst others and are used in the manufacture and testing of metals, ceramics, glass and electronics. Their most common application, however, is for metallurgical processes requiring heat treatment to alter the mechanical properties of an alloy – both iron-based and non-ferrous – for the purpose of manipulating the metal's properties for such desired qualities as hardness, strength, toughness, ductility and elasticity.
Every Keith Bench Top Hardening Cress furnace is produced with a microprocessor-based controller, easy to change alloy wire elements, porcelain hearth plate, heavy gauge sheet steel furnace case, high quality insulating fire brick backed up by 1800°F fiber board insulation, door safety switches, and balanced vertical rising doors designed to keep the hot face away from the operator when the door is open.

For larger volume jobs we recommend our heavy duty series.
Standard Features amongst others are Fire brick with easy to change resistance wire heating elements.

View the Bench Top Hardening Furnace Spec Sheet with a full description of features and options and then either call to talk to a Keith company specialist or email to request prices, additional furnace specifications and delivery.
Category Files: